This year, the number of people that need help in Cornwall is growing exponentially.⁠
It's no secret that Cornwall is one of the more impoverished parts of the UK. To allow everyone to have a Christmas dinner, we're again collecting hampers for Cornwall Christmas Box, a not-for-profit, feeding families around the county on Christmas Day. ⁠
⁠
Every year, our team, clients, friends and family all generously contribute to this fantastic cause. As always, we're accepting donations of food boxes at our office, to be collected by the kind people at Cornwall Christmas Box on 12th December.⁠
If you'd like to donate a food box to a family in Cornwall and you've never done it before, here's how:
Get shopping! Make sure that everything you buy for the box will still be in date at Christmas.
Wrap the box in Christmas wrapping paper, but make sure you leave it 'open/close-able'. So wrap the closure portions of the box instead of wrapping the whole sealed box as one. See image below for example.
Tick off each item on the checklist as you put it into the box. You can add other items too, but please make sure you don't include alcohol or anything breakable (i.e. glass bottles).
Drop it off at one of the drop-off points (Whyfield!) before 9th December 2022, so there's plenty of time to get the box to the people who need them before Christmas.
That's it. Happy shopping!
Example of how to wrap your Christmas box: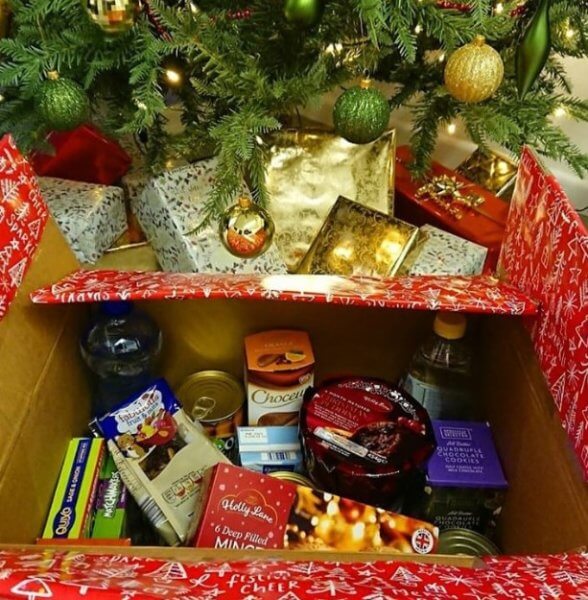 Image courtesy of Falmouth School of Sailing
For those that are stretched for time, or are unable to get to the office, but would still love to contribute towards a Christmas dinner for a family in Cornwall, we're also accepting donations via our GoFundMe.
Simply donate what you can and we will buy the goodies and wrap the box for you! Click here to donate on our GoFundMe page.
Because times are tighter, we really do appreciate anything you can give. It doesn't have to be the full value of a box, anything you can offer is so appreciated.
⁠
Last year we collected a staggering 177 boxes, including a whopping £2,680 in donations! With this winter looking like one of the most challenging, let's try and top last year's total, aiming to give as many people in Cornwall as we can a merry Christmas.⁠
⁠
Thank you in advance 🎄
Useful links
Donate via our GoFundMe page: click here
Checklist for your Christmas box: click here (Remember to get your box to us by 9th December 2022)
Directions to our address, to drop off your box: click here
Cornwall Christmas Box website: click here