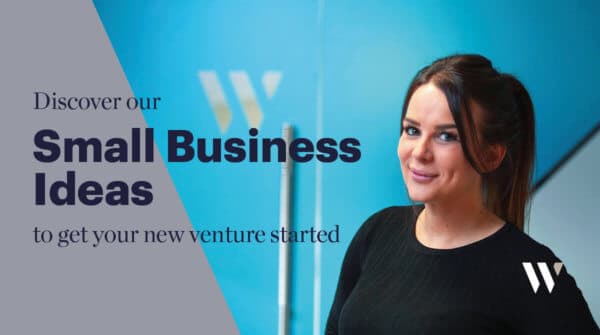 2020 saw more people than ever starting their own business. Many of these new entrepreneurs have launched their small business ideas at home alongside their employment or while on furlough.
We have seen this trend continue ever since and into 2022, with many more people aiming to work for themselves but maybe not sure where to start. With over 5 million people self-employed in the UK, finding your niche is vital.
Extra time and the uncertainty around job security has sparked a new generation of small business heroes but coming up with that winning idea can be half the battle.
So get yourself a cuppa, clock out for a while and discover our small business ideas to make money in 2022 that you can adapt into your own new business or side hustle.
Cutting the costs of a new business
There's no need to go all out from the beginning. Starting a new business doesn't have to be a financial strain on you while you focus on getting started. Here is some easy groundwork you can do:
Time is all you need to put into your new business idea. Traditional start-up costs shouldn't put you off realising your dream. We have seen a huge uprise in digital innovation – especially in the last 18 months.
Make a list of what you need to be able to make that first sale and decide on your pricing to ensure you cover all your costs.
Taking the time to get these business foundations right will be one of the most important steps you take in your new business journey. We have created an easy to use cash flow template to help you get started.
Try and think outside of the box. Any way to position your idea to customers whilst managing that initial cash flow will put you in good stead.
TIP
If you have a product-based business, typical costs you might face can seem overwhelming. These might include initial inventory, warehouse and retail space and office furniture and supplies.
Considering a 'made-to-order approach' will allow you time between each order to make, package and send your product. Not having to purchase large amounts of stock might save you from renting space to store them (or taking over your spare room or garage) and will save you from losing precious time and cash flow managing an inventory.
Some of the small business ideas we suggest later will allow you to work on a new business model that is both low-cost and low-risk.
Everyone's time is valuable, so working with one of these business models will allow you to focus on the important things. You'll be able to put your time into your orders, creating your product, providing your service and taking control over the growth of your new business.
Want to know more?
Get expert business growth advice from our advisors
Small business ideas based on your skill-set
You may be looking to monetise a skill you already have. Skills in crafts, writing, art, landscaping, website design, photography and more are all good earners. Should you already be doing one of these as a hobby in your spare time, then you could be sitting on a guaranteed money-maker.
TIP
Start a social media page such as Instagram to showcase your talent. This will begin to build an audience of people who enjoy seeing what you do and when you are ready to turn this hobby into a new business idea, you already have a group of potential customers! Don't forget to use hashtags to reach out to people outside of your circle.
Don't undersell yourself
In fact, don't oversell yourself either. There is a fine line between an unconvincing price tag that devalues the true worth of your product or service and an over-priced one that may put off prospective customers.
If you have worked out your costs and sales price, then you need to stand by this. It might be tempting to slash prices to win work but ultimately this won't help you build your business or your confidence.
Small business ideas to Start at Home
If you're still looking for that ground-breaking idea, explore the following concepts that you can easily adapt into your own small business ideas.
Handmade product ideas you can sell
You may be into cross-stitching, or you might even make your own candles or incense for your home. Either way, original products with new designs, scents or other features you have created are desirable to those looking for something different and make for perfect small business ideas.
Eco-friendly products are becoming more and more sought after as we move away from plastics and unsustainable manufacturing methods. Try using organic or recycled materials to make your products, stating clearly that you do so where you display and advertise your products.
Think about the products you make, or would like to make. What category do they fit into and can you tailor them to a particular audience? Here are just some examples of handmade product ideas for a small business:
Homeware
Decorative cross-stitched signs
Candles and incense
Coasters made from cork or paper
Photography prints
Digital poster design
Outdoor decor
Wooden garden planters
Concrete plant pots
Recycled metal garden ornaments
Post-mounted and hanging birdhouses
Garden hammocks
Food and drink
Natural pet treats
Homebrewed beer or cider
Homemade mulled wine spices
Cakes and baked goods.
Open a dropshipping shop online
Low-cost business ideas don't get much easier than dropshipping. Dropshipping is a retail business model used by entrepreneurs to curate products without keeping stock. This keeps costs to a minimum as they take orders which are fulfilled and shipped by a third party.
Having the ability to build and maintain good relationships with suppliers will serve you well. Aside from that, all you will have to do is manage your website, run your marketing channels and provide customer service – all possible from your laptop!
Dropshipping is scalable, so while it is a perfect way to test products within your niche, you can easily grow this type of business down the line.
As your new business grows you may wish to start designing your own products. You may want to take things to the next level and buy or rent space to store an inventory yourself and organise your own shipping. Until then, there is only so much you will have to manage if you start a dropshipping business at home.
Run online courses and tutorials
Running an online business can keep your profit margins higher than many tangible businesses. For example, you won't have costs for hiring or purchasing manufacturing space or equipment and having to purchase stock.
If you have a particular skill-set or knowledge base, why not share it with the world? It could be the perfect way to start your new small business in 2022.
You can offer online courses or tutorials on just about anything, here are some examples of areas you can focus on for your new online business:
Editing tutorials using software such as Adobe Photoshop and Lightroom
Cook along sessions or cake decorating
Nature trailing or foraging
'How to' videos and tutorials on social media and YouTube
Start a small pet-based business
This is one of many great business ideas that can be both service and product-based. We all love our pets and with the overall pet industry weighing in at roughly £9billion, there is ample opportunity for small business ideas to grow in this area.
One of the lowest-cost businesses you could run is dog walking. You'll need nothing more than your own time and you can easily run it from home. Other pet services you could provide as a small business includes grooming, training and even opening a pet-friendly cafe.
With plenty of pet owners here at Whyfield, we can safely say that pet owners shop for their furry friends as much as for themselves. Here are some product ideas for a small pet-based business in 2022:
Natural pet treats
Personalised pet accessories
Homemade cat and dog beds
Feeders for small animals
Wooden houses/ structures
Build and monetise your audience
Do you write a blog, run a YouTube channel or have a high number of Instagram followers? Growing your audience through an online platform will provide you with a viable way to grow your small business at home.
Take blogging for example. Businesses would traditionally use a blog on the side of the main business to grow their audience further by providing relevant information around what they do or sell. But now, bloggers are growing an audience they can eventually monetize.
Taking an audience-first approach to your small business idea will be extremely low-cost. Find something you are passionate about and get writing, vlogging or sharing on Instagram.
Once you have engaged your audience, try one or all of these ideas to transform your online hobby into a fruitful business venture:
Apply for advertising space on your blog
Start affiliate marketing on your channel
Work with other brands on sponsored posts
Create a website to sell products you discuss and share
Create a Patreon account and offer memberships
Providing a service you can sell
There are endless possibilities if you want to provide a service for your small business. While some services like trades will require you to stock materials, time will be your biggest resource here.
How to turn your service into a product you can sell
Selling a product on the side of your core business model will allow you to reap the rewards of multiple revenue streams.
Digital skills are great for this. For example, as a wedding photographer, you provide a service by photographing key moments of the day. You can then edit and sell the photos as the product, likely with its own charge once you break your invoice down.
This model can be translated across all kinds of business models in photography, videography, graphic design, copy-writing and more. Selling prints on the side of your photography service allows you to gain two types of customers.
Keeping your social feeds separate from your personal feeds is important when growing your professional audience. You can regularly share shots, designs or whatever your service produces to your Instagram and link straight to your shop for this audience to purchase.
Are you compliant?
Aside from the excitement of starting a business, you have a requirement to be compliant. All businesses in the UK must register for and be subject to HMRC legislation.
Depending on the type of entity you trade through you may be subject to the following:
A self-assessment tax return
A company tax return
PAYE records and returns
Corporation tax
VAT
National insurance
Pay as you earn (PAYE)
Real-time information (RTI)
This might look like a huge list and as you grow your business there might be more to do to keep on top of legislation and making sure you stay on track. We can advise you on Compliance and HMRC and keep you informed to ensure that your new business is following the correct guidance.
Help for starting a new business
Our qualified business advisors here at Whyfield have worked with hundreds of new businesses and start-ups.
We know how to get your business set up and in the best possible position so that you can start trading hassle-free. Take a look at our dedicated business support services that will help you start up your new business ideas, taking them from a concept all the way to a thriving business.
You can see the awards and accreditations that we have gained, including for business support, that make us qualified to guide and support you through your business journey.
Grants to get your small business ideas up and running
Starting a new business can be daunting, especially when considering your overheads. Don't get yourself caught out and overwhelmed by initial expenses.
There are many business grants or start-up focused loans and funding that you can apply for that will help you get your new business idea off the ground in 2022.
Find out more…
about business grants for small businesses.