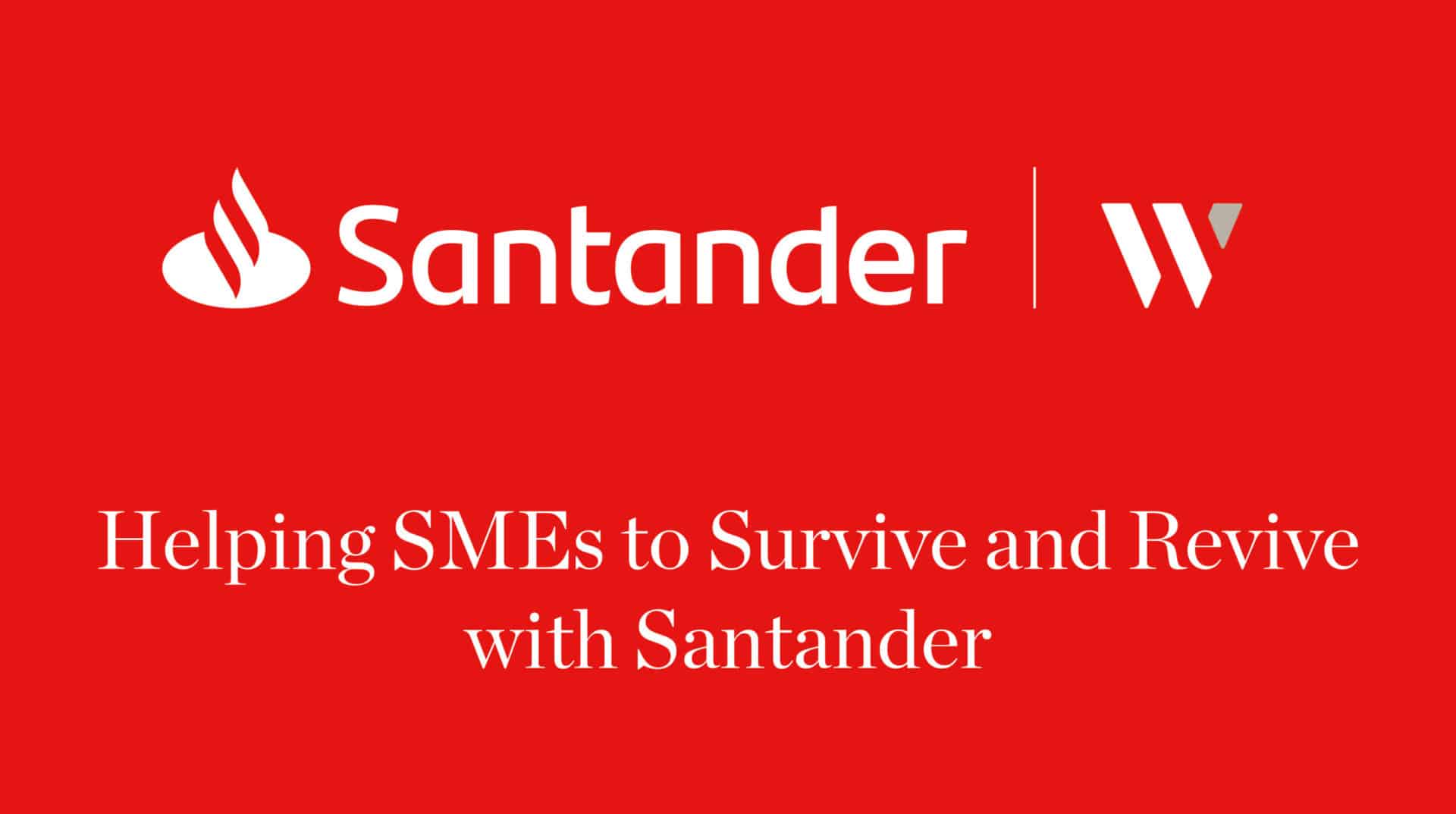 Before 2020, a global pandemic was reserved for history lessons on Spanish Flu, Hollywood movies or, more drastically, one hypothesis on what wiped out the dinosaurs. Now, however, a global pandemic is something that we have lived with for more than six months, and we are all a lot more familiar with terms we had probably never come across before this, like coronavirus and furlough.
There's no denying that, for many small and medium-sized business owners, Covid-19 is the most turbulent, troubling obstacle they have faced – however, one clear thing is that SMEs have no desire to become extinct because of this.
Supporting SMEs
At Santander, we have been supporting SMEs throughout the crisis, with the provision of thousands of Bounce Bank Loans and payment holidays on existing loans. But moving beyond banking, we've been listening to their experiences of coping during coronavirus, how they've adapted, how their customer base has reacted, how they view the future and how we can help them to move beyond lockdown.
Through our research with businesses, which polled 2,050 senior leaders in UK SMEs, we discovered that the pandemic had driven long-term change to the way they operate.
Over half (57%) of SMEs adapted and changed the way they do business as a result of Covid-19 with almost one in five (18%) business leaders introducing alternative operating hours, making this the most widely implemented operational change. Moving their business online (14%) and changing products or services (13%) were also methods used by SME leaders to ensure business continuity during Covid-19.
One customer, Ali Hodges, Director of Abode Heat Ltd Bodmin Cornwall said:
"As a small but growing business, this was potentially a worrying time. What has been most inspiring to us as a team, has been the positive actions from our customers and suppliers to try and support each other through these disruptive times.

Communication and collaboration has never been more important for future success and this has been pro-actively led by Santander by the launch of their Survive and Revive programme and followed on with the Breakthrough programme – both of which endorse communication and collaboration and positive actions."
Another business we worked with is the Stamford Arms in Leicester who have used their experience of lockdown to refocus how their business operates.
Brian Rigby, Landlord of the Stamford Arms in Groby, Leicestershire, said:
"The impact of coronavirus on our business was swift and we know it's not going to go away quickly. With support from the Government and Santander we've made it through and now reopened.  

Reopening has been exciting, but of course there are challenges. It's made us think differently and try new things, like our new garden pods so people can be safe and enjoy a great time – whatever the weather. We've also invested in additional outdoor tables, outdoor kitchen equipment and umbrellas, a new street food menu to fit with the outdoor dining theme – plus of course the all-important cleaning equipment.

With the right support, businesses can hopefully find a way through this. Above all, it's great to see local communities supporting small businesses – it means the world to us."  
Santander's study showed that businesses were quick to respond to the pandemic, with over seven in ten of those who adapted, bringing in their changes before the end of March 2020 – either before, or within a week of the lockdown being announced in the UK.
When we asked what helped SME owners to be able to adapt so quickly, over a third said it was having a flexible workforce, while a further third attributed it to their strong and supportive customer base.
While the changes were brought in as a reaction to Covid-19, it seems as though we have seen a shift in attitudes which will be carried forward in business strategies long after lockdown.
Indeed, a third (32%) of SMEs who implemented changes plan to make their Covid-19 adaptations a permanent feature post-pandemic after almost half found they not only survived but grew their customer base during Covid-19.
This sentiment is echoed in separate research we carried out with over 2,000 UK consumers, which found the public has well received the efforts of SMEs.
When asked, 60% of consumers said they wanted their local SMEs to keep the changes they made during Covid-19 once the pandemic is over. In a boost for local businesses, over three quarters (77%) of consumers feel that the pandemic has shown them that Britain would be worse off without SME businesses.
Small business recovery and outlook
Many SMEs used Covid-19 as an opportunity to try something new, and in many instances, it seems to have worked.
When asked about their future, over half of the SMEs we spoke to (51%) now plan to re-think their long-term business strategy completely moving forward.
Over a quarter (28%) of SMEs say their business will be more online and one in five (20%) plan to occupy less physical space, as almost a third (29%) plan to have their staff working more remotely in future.
More drastically, one in seven (16%) say they will look to re-purpose their business completely.
However, there are still obvious challenges ahead, and while many SME businesses were seemingly able to adapt to survive to the immediate pressures that were presented to them by Covid-19, over a third (36%) of SMEs said they would not be ready to face any other challenges or future crises until they had dealt with Covid-19.
Nearly one in ten furloughed 100% of their staff during the lockdown. Only one in five SMEs expect their business to return to operating at pre-Covid-19 levels in 2020.
Similarly, despite the innovations of SMEs helping them to survive the pandemic so far, over half of SME leaders (58%) have reported a decline in their profits and revenues, which suggests that despite attracting new customers, consumers have been spending less with them.
We found that a third of SME leaders feel anxious about the future of their business with only a fifth (19%) expecting to return to normal operating levels by the end of 2020 and almost a third (32%) by July 2021. There are also some noticeable regional differences in the experiences, with one in ten SMEs in the West Midlands saying their business operations will never return to pre-Covid-19 levels.
Meanwhile, businesses in Northern Ireland are more hopeful, with over a third (36%) expecting to return to normal before the end of 2020.
While their anxiety about the future may be attributable to several factors, our research showed that a majority (60%) of leaders at SMEs are worried about their ability to attract customers back as the economy re-opens, with nearly a fifth (18%) concerned about the level of investment in marketing needed to restore customer spending to pre-Covid-19 levels.
To help those businesses, we have created our own marketing and PR toolkits which are available on our website as well as useful webinars on the same topics.
Sadly, two fifths (39%) of SME owners who have been adversely affected say they are now questioning whether they want to continue running their own business in future. The figure is made even more concerning when taking into account the vast number of people employed by UK SMEs, which according to the latest data stands at 5.8 million3 – accounting for 99.3% of the entire working population.
For further information and support, contact David Rogers, Santander Business Banking Manager, based in Truro at David.Rogers@santander.co.uk
Survive and Revive
To help those business customers, we're launching a new initiative with Mind, the UK's leading mental health charity, to provide training and support to our customer-facing colleagues to recognise the signs that a customer may be facing mental health issues.
The first phase of the programme is being rolled out on 12 October – two days after World Mental Health Day (10 October) – and will equip up to 500 staff across the bank before the end of 2020.
One thing that is clear is that for many people, SMEs are the backbone of the UK economy, and now more than ever, are proving to be invaluable to the local communities in which they serve.
With many adapting, almost overnight to survive, we are proud to have helped them on their journey. Now we want to continue to support them with the launch of our new business support programme, Survive and Revive which we hope to continue to help small businesses as we emerge from lockdown and look to the future of SMEs.
Finally, one business owner who has really embraced the change and adapted his business is Kenny Tutt, owner of Pitch restaurant and winner of MasterChef 2018.
Last month he launched his own pop-up food van selling his delicious food called Tutt's Truck. He said:
"Like many small business owners I put my heart and soul into my business, and it has been a struggle to overcome the impact of Covid-19. Without help from the government and lenders, I, like many businesses may not have pulled through.

"But difficult situations can force positive change. From designing a new take-away suitable menu, through to social distancing measures we have adapted to create a relaxing and enjoyable experience for guests. I've been taking what I learnt during Covid-19 to develop a new business plan, and while there are still many uncertainties, with the right support, more businesses can hopefully find a way forward as lockdown eases."
More information on Santander's Survive and Revive programme, including our webinars and a list of other helpful resources is at www.santanderbreakthrough.co.uk/coronavirus.