Xero has produced a UK industry performance report. While many businesses have faced challenges over the pandemic, there are plenty who called on the services of accountancy firms to get the support they needed to survive.
The services of accounting professionals have been vital in keeping businesses afloat. Many have sought advice in key areas like cash flow, forecasting, understanding new government guidance and support initiatives and so much more.
The accounting sector has shown real resilience in the face of financial uncertainty. The expertise has been in high demand and those with it have dug deep to assist and support businesses in serious need of finding financial stability.
So, how do we stack up against the Xero industry performance report? As it turns out, very well!
Business Growth
We have seen growth within our business over the past year. Social restrictions brought hardship to many sectors, but with accountancy firms managing to stay alive throughout it all, we have been able to be there to offer support to those who needed it.
New Clients
Most firms surveyed by Xero have added an average of 10 new business clients throughout the past year.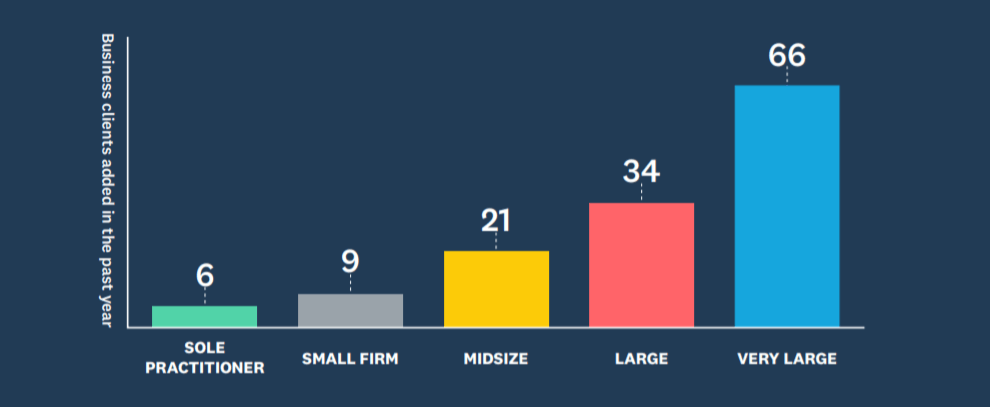 In the past year, Whyfield has added a total of 177 new business clients. As a midsized firm, we are far exceeding the client intake of the businesses surveyed by Xero.
Furlough claims quickly became a second language to us, with many businesses coming to us in need of support with their claims and other Government initiatives.
But that wasn't all. We have helped to set up more new businesses over the past year than any year previous. With so many people let go from their jobs and finding new ways to make money during lockdowns, it wasn't long until many were coming our way to get registered with HMRC and take the next steps on their new business journey.
Fortunately, only 4% of firms say their client base declined because of the pandemic. This means that for the most part, accounting practices are doing well.
While 13% say their client base is neither growing nor declining, the same number say their client base is growing faster than pre-pandemic levels.
32% say their base is growing, but slower than before the pandemic, while 39% say their base is growing at the same rate as it was before.
New Staff
To handle the extra work coming in from businesses in need of support, 30% of firms are looking to hire more full-time staff over the next year.

We have taken on 5 new team members since the first national lockdown and are still on the lookout for more talented accounting professionals to join our team. We aim to create 5 new roles within the business in the year ahead. The pandemic hasn't stunted our growth but rather encouraged it.
Most recently, we hired a new Accounts Assistant Apprentice. We have been growing our team in all directions from additional Accountants to building our own Marketing department.
Use of Online Software
More businesses are moving to digital accounting tools than ever. The accessibility and support it offers business owners and self-employed individuals helped many adjust to the conditions of the past year.
An average of 59% of respondents to Xero's survey said they are already using digital platforms. 11% of practitioners say 100% of their business clients are using online accounting software.
95% of our business clients are on digital platforms and most of those that aren't are well on their way. We were born in the age of digital accounting, so we support all of our clients as they make the change.
Client Communication
Firms with 51% to 100% of their business clients using online accounting software have maintained good, steady contact with these clients throughout the pandemic.
Looking at SMEs, Xero researched businesses and the communication they have with their accountants at the beginning of 2021 when the second wave of COVID-19 caused another lockdown.
The research revealed the following:
61% say their accountant supports them in areas they struggle with
45% state their accountant is more important than ever
63% want their accountant to help them use insights and data more effectively
37% believe their accountant helped them retain staff during the height of the lockdown
38% of SME owners said they have built closer relationships with their accountant
The relationship you have with your accountant proves to be crucial. Opening yourself up to digital accounting will offer so much flexibility in how you communicate and collaborate with your accountant.
If you're looking to move into the world of digital accounting and want to open up new channels of communication with your accountant, we offer support to get you plugged into the modern accounting system.
Have a chat with us over the phone if you would like to know more, or you are very welcome to talk to us about training at your place or ours.